May 2, 2023 monthly meeting. We swore in our newest league member Scott Spier. Commandant Larry Bear presented awards to Sgt. at Arms Jeff Marani, Judge Advocate Kevin Dwyer, Web Sgt. Karen Johnston and League member Lisa Kennedy.
CNY RV Show 2023
MONTHLY MEETING
​DECEMBER 6, 2022 INSTALLATION OF OFFICERS
On Saturday December 17th some of our league members participated in the Wreaths Across America Ceremony at the Veterans Cemetery in Onondaga Hill. Thank you, Lisa, Tony, Doc, Gary, Gary's wife Michelle, Phil, Joe, Sarge and Karen for hiking through the snow uncovering headstones and placing wreaths for our fallen brothers and sister in arms. The day was about Remember, Honor and Teach, and we accomplished that mission.
Semper Fi
ANNUAL OLD NEWSBOYS HOPE FOR THE HOILDAYS FUNDRAISER 12-10-2022
THANK YOU TO ALL THE LEAGUE MEMBERS WHO CAME OUT TO HELP TODAY!!

Marine Corps League Birthday Ball 11-12-2022
Thank you to all the Marines that represented the Syracuse Detachment 224 November 5th, 2022 in the Veterans Day Parade and Expo.
We had the honor of attending Echo Company 4th LAR's
Marine Corps Birthday Ball on Saturday November 5th, 2022
We had a great meeting last night, Commandant Bob Brown presented league member Phillip Hildreth with a certificate of appreciation. We were able to help member Oliver Jackson in folding a flag for him to present to the son of a Vietnam Vet that Oliver knew. We had a special guest in attendance from Echo Company 4th LAR (Mattydale), Ssgt. Shifflett, he is the coordinator for the Syracuse Toys for Tots campaign. The league made a $500.00 donation to this years Toys for Tots event in memory of league member Charlie Lester who coordinated our league Toys for Tots program for many years. We ended the night kicking off our 247th Birthday Celebration, November 10th, with pizza and cake for all in attendance.
To the Detachment:
Wednesday November 2nd was a beautiful and warm sunny day as Marine Farewell and Marine Bear made a great excursion to the Menorah Park to call on and visit with Marine Jim Mahar of the Greater Syracuse Detachment 224.
We found Marine Mahar in the cafeteria getting ready for his lunch. Marine Farewell said hello to Jim, shook his hand and gave Jim a new Marine Corp League Cover. Jim was visibly moved by this gift and our presence as we saw tears in his eyes. Marine Farewell unfolded the USMC Flag, which we the Marines signed at our November 1st monthly meeting. As we held the flag up in front of Marine Mahar, he again was visibly emotional as tears again rolled down his cheek. Marine Mahar made an indistinguishable remark as he pointed to the flag. Ron then told Jim that we had brought him and his wife Ann a piece of the Marine Birthday Cake which we had at our meeting just the night before. Marine Mahar was very quiet and held his head down during most of our visit. Marine Farewell took out the birthday cake and attempted to get Jim to eat some, with a little coaxing Jim finished the entire piece of cake. At that time the staff has brought in Jim's lunch, which looked mighty tasty. After a few minutes Jim pulled the table closer and took a fork with a chunk of meat that would choke a horse and put it in his mouth, Marine farewell and Marine Bear looked at each other worried he might choke but Jim chewed it and swallowed it like a true MARINE. Later we had learned from one of the cafeteria staff that Jim had no problem eating and has a great appetite. We talked to Jim asking him questions but he did not respond to us except for eating the birthday cake and the visible emotions he showed us. At one point he read the name on Marine Bears shirt and said "Larry Bear" and then became quiet again. Before we ended our visit, we place the USMC Flag on the wall above Marine Mahar's bed. It was a wonderful day and it was apparent that Marine Mahar was moved by our visit and we became aware that he was still TRULY A MARINE AT HEART.
WE CAN MAKE A DIFFERENCE SOMETIMES JUST A LITTLE EFFORT IS ALL IT TAKES!
​Greater Syracuse, NY Marine Corps League presented a $500 check to the LaFayette, NY Optimist for their charitable endeavors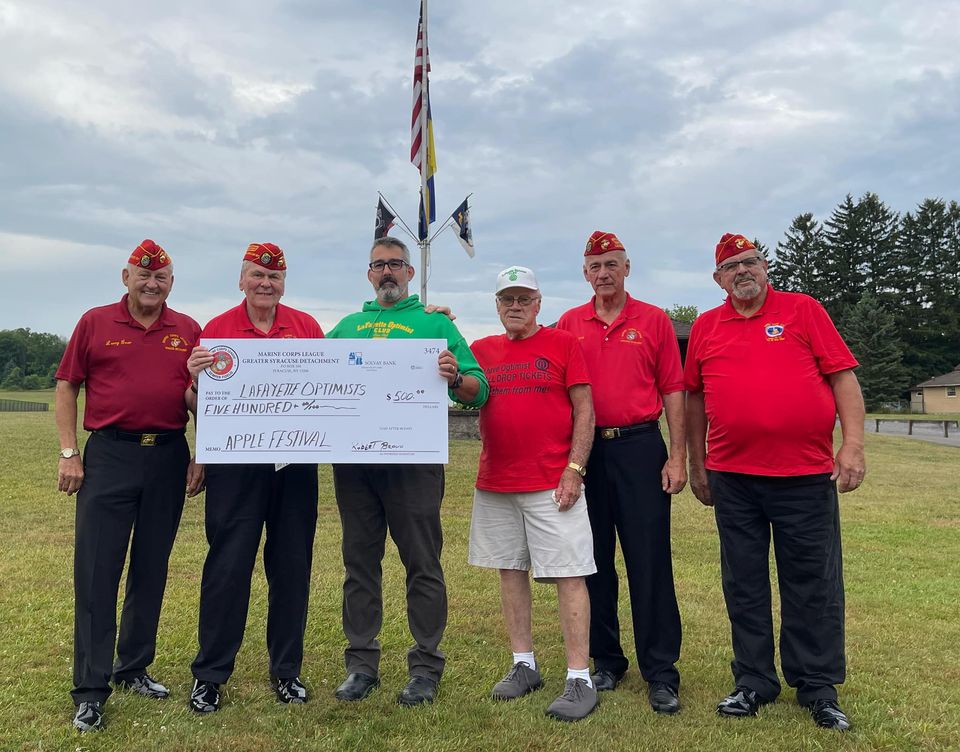 Thanks to all that stopped by to say Hi, Semper Fi, Ooh-Rah and anything else, Also a Big OOH-RAH!!!! To all the Marines who came out to man the Detachment's
Marine Corps League Birthday Ball 2021
​Every year the Marine Corps League awards two scholarships to the Jr. ROTC program at Mexico High School. This years recipients are Michael Baggett and Avery Mack.
They are p
ictured on the right side of this photo-Cadet Cpl Michael Baggett and Cadet SSgt Avery Mack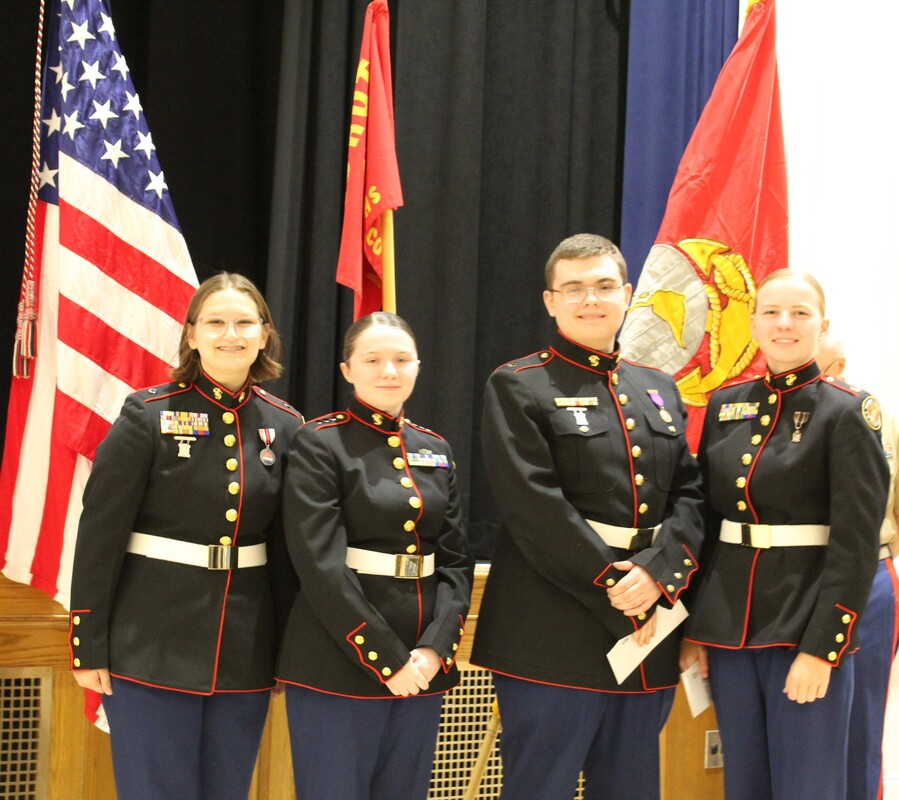 November 29, 2019
Today we had the pleasure of helping a local family whose granddaughter had an idea this Thanksgiving to help families in need this holiday season. Moira Souza (in green) had the idea this year to have all her family bring an new unwrapped gift to their holiday dinner so that she could then donate them to families in need for the holidays. We at the Greater Syracuse Marine Corps League received a phone call from Grandma & Grandpa Martha & Pierce Ryan (Pierce is a Retired Marine himself) to see if we could have a Marine in Dress Blues accept these toys and in turn get them to the local Toys for Tots program. Commandant Ron Farewell & Sergeant at Arms Jeffrey Marani made it happen. They met with the family at the Christmas tree @ Clinton Square and accepted the toys from Moira and her sisters and cousins, Maryn Ryan, Keira Souza, Fiona Souza & Nola Ryan all helped give the toys to Ron and Jeffrey (AKA SARGE) which will be dropped off at the Cicero American Legion where the USMC Reserve Unit will then pick them up from and bring them to the Christmas Bureau to be given to families this Christmas.
Marine Corps League Birthday Ball November 2, 2019
THANK YOU AGAIN TO DOMINICK MAIO FOR THE NICE WRITE UP AND PHOTOS
On November 10, 1775, the US Marine Corps was created by a resolution of the Continental Congress.
On Sunday, November 10, 2019 - local US Marines continued their annual tradition of assembling together for lunch in celebration of their annual birthday at Dominick's Restaurant on Burnet Avenue in Syracuse, NY.
This special luncheon marked the 244th Birthday of the US Marine Corps.
Former restaurant founder Dominick Tassone Jr, began this tradition at his restaurant many years prior to his death in 2011. His daughter and manager of Dominick's, Cynthia Harrington has been gracious enough to continue her father's tradition. A huge thank you from all our Marines must go out to Cynthia and her excellent staff for offering our Marines this fabulous meal each and every year!
After a few hours of exceptional food, drinks and comradery - retired US Marine Colonel James Casey, who has spearheaded this event every year, introduced Cynthia and other guests and notable Marines who participated in our luncheon by giving Grace and making presentations as they updated attending Marines on current & relevant issues.
While holding to tradition of our lifelong practices, Colonel Casey read General Lejeune's 1st Birthday message, followed by the cutting of our birthday cake and a ceremony to honor our oldest and youngest Marines. Our lunch was completed as Colonel Casey led all Marines in singing our Marine Corps Hymn.

THANK YOU DOMINICK MAIO FOR THE GREAT WRITE UP AND PHOTOS FROM YOUR LEAGUE TRIP TO THE MARINE CORPS MUSEUM
On Friday, 18 October, a squad of 7 Marines & spouses from platoon 224 deployed from our Command Post and headed south to Quantico Virginia on a mission. The mission was one of "observation"!
A quick stop was had near the Summit in PA for rations.
Our patrol pace was for "double-time".
Our leader's navigational armament was an old Dead Sea Scroll which proved to be factually accurate until our squad was approximately 1,700 kilometers from our objective. A possible "left-handed monkey wrench" was immediately detected to our flank - so our leader made an abrupt "about face" which all but guaranteed our T.O.A. to our mission site would nearly double. It was at this point that this mission was considered a Charlie-Foxtrot and some of our squad members began reading tea leaves and finally chose to reconnoiter. Re-fueling at this point along with serious pit stops became a dire necessity.
Our PI boot-camp training began to take precedence in our brain-housing groups and … one by one we quickly identified our surroundings, corrected our bearings and successfully completed our night assault into friendly territory.
Once we reached the Echelon of comfort - we immediately "checked-in" then advanced to Globe & Laurel for rations. Once our meal was consumed, we silently retreated to our squad-bays and hit the racks.
We arose at daybreak only to standby again for hardtack & Joe and then rapidly proceeded to our assembly area to engage in joint operational planning. We double-timed to our Outpost, boarded our vehicles and advanced to our "Designated Checkpoint" for observations, photos, camaraderie and laughter, more rations - this time at Tun Tavern, even more photos, more laughs and we completed the evening with chow at Globe & Laurel. While at rest, we were overwhelmed with excitement over meeting USMC Retired Major Rick Spooner, a 3-war Marine and the owner of Globe & Laurel.
We returned to our squad-bays, secured our post and prepared for lights-out.
Reveille on Sunday was at 06:30 as our squad chowed down in preparation for our return to civvies.
Travel conditions were perilous at times ... however nothing would stop our Marines. Record paces were somehow achieved and victory was at our doorstep. As much more historic memorabilia is scheduled for display by 2020, a return visit to Quantico should be on everyone's list.
OORAH MARINES
League Trip to the Marine Corps Museum October 2019
Marine Corps Birthday luncheon and celebration November 10th at Dominicks Restaurant.
​

Lisa Kennedy, MCL Member and Grand Marshal at Parade Nov 9, 2019
​Pictures from the 2019 Lafayette Apple Festival MCL 224 Would like to thank all who stopped by our tent. THANK YOU to the Marines that manned the tent 🇺🇸

The Marine Corps League, Greater Syracuse Detachment # 224 once again enjoyed a fantastic outing at our annual "Lafayette Apple Fest" this past weekend in Lafay

ette, NY. The festival attendees were extremely generous in their donations for our Marine Corps roses as we again reached our projected goals for the event. Our MCL detachment participates in two fundraisers each year. The funds we raise during these two events allow us to dispense dollars based on the needs of our Military families. In the first six months of 2019 - thousands of dollars were distributed to assist the VA hospital, Marines in Hurricane stricken areas, many Marine families for various emergency needs, Honor Flight recipients, Marine ROTC programs, college scholarships, etc.
A big thank you must go out to the Lafayette Optimists, Cub Scout Pack 100 and the Lafayette Athletic Boosters Club for generously satisfying our Marines all weekend with food and drinks.
"Once a Marine, always a Marine", so if you are a Marine and want to help us assist our Marine families, share a few laughs, attend our annual Marine Birthday Ball, enjoy family cookouts and some military camaraderie, please visit us at our meeting and join forces with us. We meet at 7PM on the 1st Tuesday of every month at the Cicero American Legion Post 787 at 5575 Legionnaire Drive in Cicero, NY.
A big thank you to everyone who took part in this weekend's hot weather training at the Syracuse Nationals.
It sure was hot!! We did good on the rose program and selling Marine merchandise.
Again, thanks to you for making 224 a great detachment.
We had a fantastic turnout at our annual league picnic 6/4/2019. It was great to see all the Marines with their family and friends. We also had a special birthday celebration for one of our league members, Thomas Rhodes, who will be celebrating his 99th birthday later this month.
Tuesday June 18th some of our league member made a special visit to another league members home to celebrate his 99th birthday.
Happy 99th Tom Rhodes
🎂
🇺🇸
We had a fantastic turnout for the Onondaga County Veteran's Memorial Cemetery 33rd Observance on Sunday May 26, 2019
​
On May 15th we had the pleasure and privilege of attending Mexico Academy's Jr ROTC Awards Ceremony.
Several members of the league welcomed home the Honor Flight tonight at the Syracuse airport.
Commandant Ron Farewell and Senior Vice Commandant James "Doc" Koehler presented a check from the League to the Syracuse VA Medical Center - Rec Therapy Department on March 26, 2019

​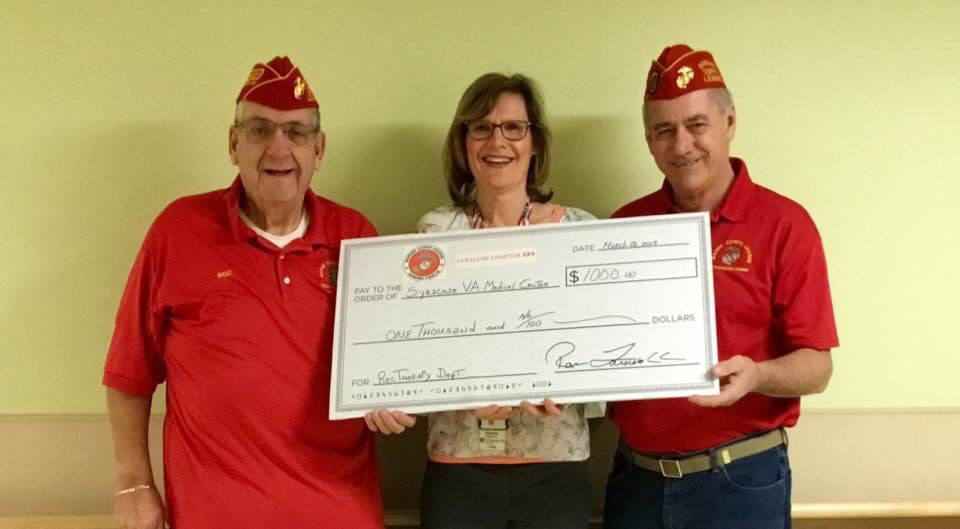 CONGRATULATIONS DOMINICK MAIO ON RECEIVING SYRACUSE DETACHMENT 224 AWARD
MARINE OF THE YEAR
​
2018 Birthday Ball
---
Disclaimer:
"The Eagle, Globe and Anchor emblem and the name Marine Corps® are registered trademarks of the USMC. The Marine Corps League and its subordinate organizations support the USMC and its veterans, however it is not officially connected to or endorsed by the USMC, and the name and emblem are used with permission."